Designer luxury meets a resort lifestyle

Overview
Nestled in an oasis of natural beauty and distinguished by a Greg Norman signature golf course, Sanctuary Falls is a landmark community in the prestigious Jumeirah Golf Estates (Dubai, UAE).
Set amidst lush golf vistas and inspiring lakes, the community features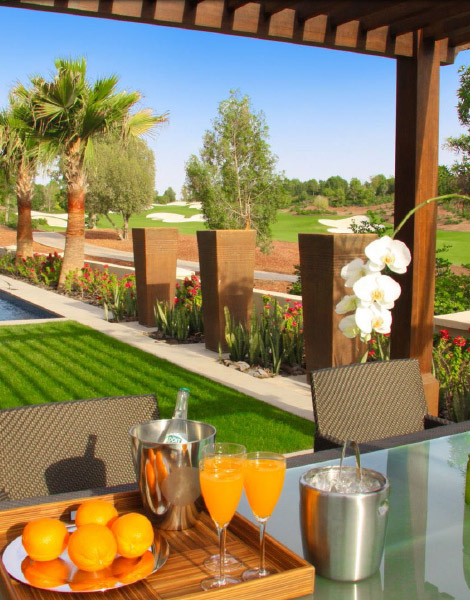 Sanctuary Falls is located in Jumeirah Golf Estates, one of the most sought after master communities in Dubai, UAE. Set amidst a rich and varied landscape, and enclosed within a secure gated community.
We have brought together a unique team of exceptional design talent to create the resort home experience at Sanctuary Falls. World-class architects, landscape artists and interior designers
The ownership of a Sanctuary Falls home gives you privileged access to the Middle East's first semi-private golf club at Fire and Earth. Membership is open exclusively to residents of Jumeirah Golf Estates.
At Sanctuary Falls, dynamic living is a part of your everyday experience. Located in Jumeirah Golf Estates, your home is at the heart of a master plan designed to offer you the best of community living. Besides the soothing greens around and the inspiring water features that invite you to a tranquil walk or a family picnic, the Estates offer you endless options for healthy relaxation and entertainment. For the more active resident are jogging and cycling paths, which wind their way around the various community parks, lakes and naturescapes.
Your home at Sanctuary Falls is right at the heart of a 'happening community' and the Norman Clubhouse is central to this community. The 131,000 square feet Clubhouse (largest in the world) is world in itself housing several restaurants fitness centers, retail stores, a wellness spa and much more. It offers Sanctuary Falls' residents the ease, luxury and the element of a true resort lifestyle, by bringing shopping and leisure facilities right to your door step.
OUR TEAM CONSISTS OF ENGINEERS & CONSULTANTS WITH EXPERIENCE IN HOTEL & RESORT DEVELOPMENT
Meet the team